These Buffalo Chicken Quesadillas may just be my new favorite lunch. These cheesy, buffalo chicken packed quesadillas are addictive and something you will want to make over and over again.
True story, I will eat almost anything covered in buffalo sauce. It seriously makes everything taste delicious and a bit naughty since we usually associate buffalo sauce with high calorie treats like wings and fries. Luckily, buffalo sauce itself is surprisingly low in calories (when you don't mix it with a pound of butter), so it's a great way to add flavor to your recipes.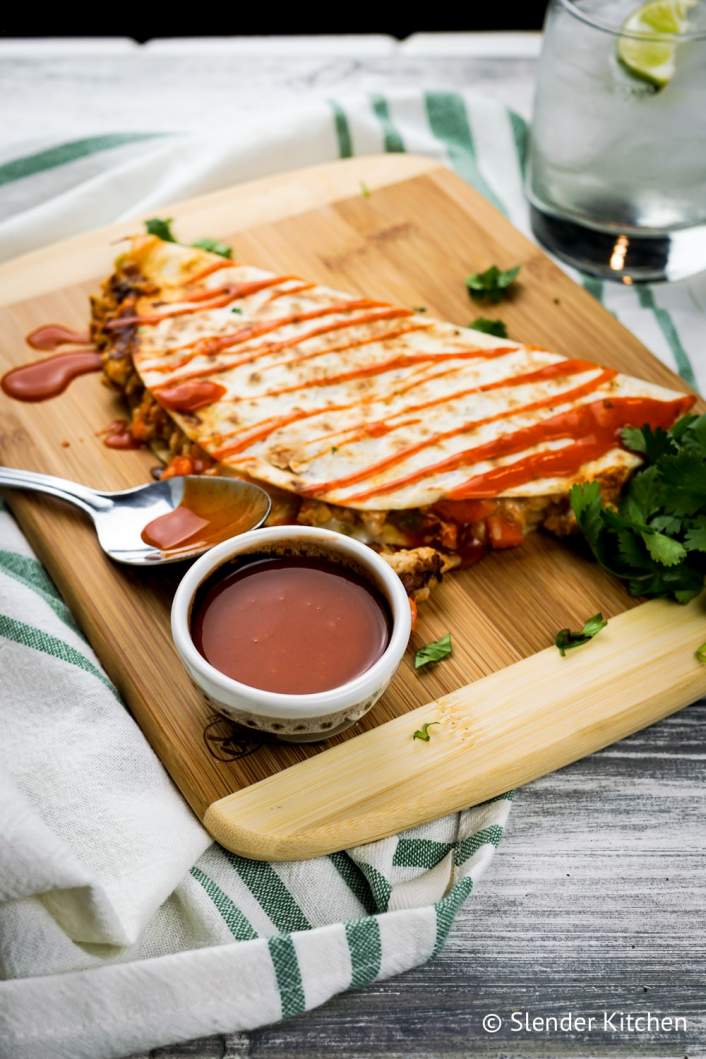 Today's simple recipe capitalizes on all that flavor to make a delicious quesadilla. Buffalo chicken, carrots, celery, and cheese are all folded into a low carb wrap (or flour tortilla) and cooked up until it's nice and crispy. You can definitely add some extra veggies if you like or substitute some of the shredded cheddar for crumbled blue cheese. Additionally no one would blame you if you dipped your quesadilla in some light ranch on the side.
Ways to Customize this Healthy Buffalo Chicken Quesadilla
Although I usually reach for mozzarella or cheddar cheese, blue cheese is such a delicious addition to this quesadilla. Since I still want some ooey-gooey cheese, I replace half with blue cheese. So good.
Needless to say, you will probably want to dip this in something. I recommend using a light ranch or blue cheese dressing. Consider these healthy homemade ranch and blue cheese dressing.
If you don't eat chicken, you can make this with chickpeas instead. It turns out really tasty and even the meat eaters love it.
When it comes to the tortilla, it's up to you. For the lowest calorie option, I usually look for a low carb tortilla or wrap. You can also use a traditional flour tortilla, whole wheat tortilla, or make a couple of smaller quesadillas with corn tortillas.
This filling is great for more than quesadillas. Make it into a sandwich with some slaw, stuff it into lettuce wraps, or even make a flatbread pizza. The options are endless.

Love this recipe? Check out our meal plans!
This delicious lunch is part of this week's meal plan. It makes healthy eating easy and stress free. All with nutritional info, Freestyle SmartPoints, shopping lists, and the ability to be customized in minutes.
Looking for more healthy buffalo chicken recipes?