Slow Cooker Korean Chicken is an easy and healthy crockpot meal that takes just 10 minutes of prep. The end result is the most amazing sweet, savory, and slightly spicy chicken.
One of my favorite recipes is for this  Korean Beef Tacos. They are a bit spicy and a bit sweet a perfect combo in my book. I was craving them this week but didn't have any beef on hand so decided to give the recipe a try with chicken. I combined a pound of chicken thighs (for moisture) and a pound of chicken breasts and it came out great. The recipe makes a great base for tacos or burritos, can be served over rice, and also works perfectly for lettuce wraps. It also gets better over time so plan on using the leftovers for lunches or quick dinners during the week.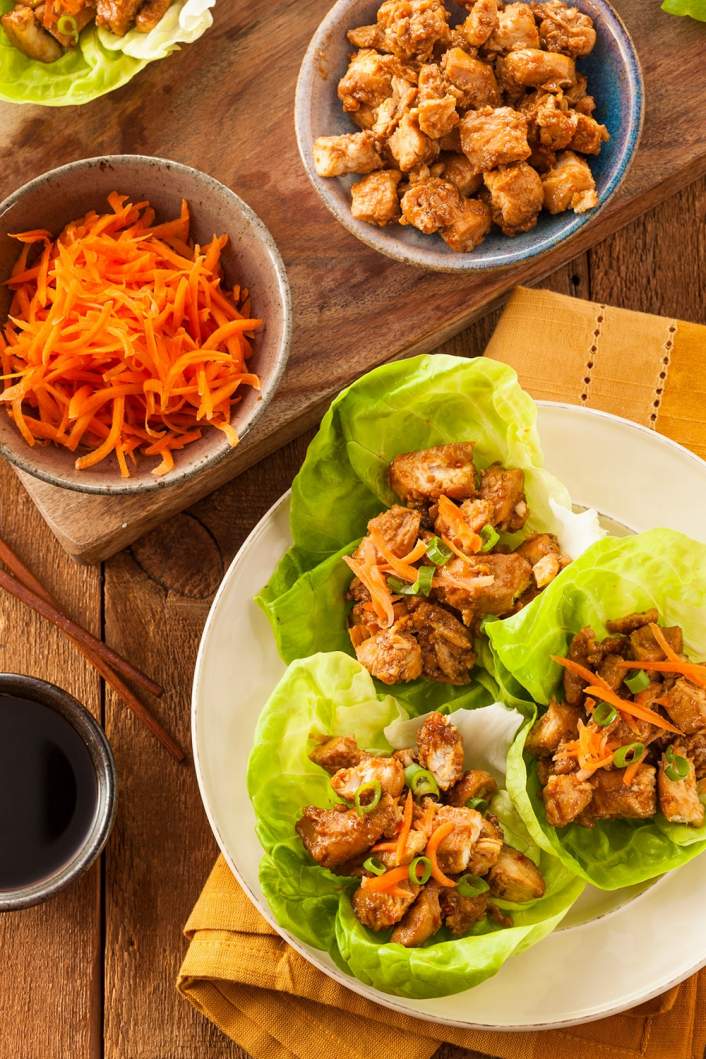 The sauce for this dish is where the magic really happens. The combination of brown sugar, soy sauce, garlic, ginger, and rice vinegar is the perfect blend of sweet and savory. Then combined with some fresh jalapenos (or Sriracha) to get some subtle heat, and you have a sauce you will want to eat with everything.
Our favorite way to eat this chicken is as lettuce wraps. I set everything up on the table and let everyone build their own. The spread includes butter lettuce, shredded carrots, edamame, soy sauce, Sriracha, green onions, sesame seeds, shredded jicama, and cilantro. It's also great for parties since you can leave the chicken in the slow cooker and set everything else up on the side.
Tip for Making this Healthy Slow Cooker Korean Chicken
I like to make this dish with a combination of chicken breast and chicken thighs. The thighs bring moisture to the dish, while the chicken breast keeps the calories and Weight Watchers points a bit lower. However you can use all thighs or all breasts depending on what you prefer. You can also shred the chicken instead of cubing it.
Using whole garlic cloves add a nice garlic flavor to the whole dish that isn't over powering. However, if you don't want to use that many cloves, you can use 4-6 diced cloves instead.
For the spice in this dish, I like to use jalapenos. You could use Sriracha or Asian garlic chili paste as well.
Don't feel like you have to serve this as lettuce wraps. It's delicious served with rice, quinoa, or spaghetti squash. It's also great in tacos or an Asian style burrito or rice bowl.

Looking for more healthy Asian slow cooker recipes?
Here are some products I used to create this recipe:
Slow Cooker: There are so many different slow cookers on the market but I personally use this one that allows me to brown, sear, or saute in the same pan. Plus I find the cooking temperature to be really even and consistent.
This recipe was originally posted in 2014 and has been updated with new photos, tips, and tricks,
(function(d, s, id) {
var js, fjs = d.getElementsByTagName(s)[0];
if (d.getElementById(id)) return;
js = d.createElement(s); js.id = id;
js.src = "http://connect.facebook.net/en_US/sdk.js#xfbml=1&version=v2.4&appId=125505754455470";
fjs.parentNode.insertBefore(js, fjs);
}(document, 'script', 'facebook-jssdk'));