By Vickie Bhatia, Ph.D., Whole30 Certified Coach
Diwali, also known as the Festival of Lights, is the biggest and most important Hindu holiday of the year. Although food is a central part of the holiday, don't let the celebration derail your Whole30! A lot of Indian food is naturally Whole30 compliant or can easily be modified without sacrificing flavor or spice.
Plan Ahead Strategies
Mithai (Indian sweets) are a common part of Diwali celebrations and are often given as gifts and used to welcome guests into one's home. Unfortunately, these are all going to contain non-compliant ingredients. However, this doesn't mean you can't celebrate!
The most important part of Diwali is spending time with loved ones. Instead of focusing on what you can't eat, focus on the aspects of the celebration that are meaningful to you–lighting diyas (little clay lamps), visiting with family, inviting friends into your home, participating in pujas or other worship, giving gifts, etc.
If part of your celebration includes worship and receiving prasada (a religious offering consumed after worship–similar to receiving communion in Catholicism), most temples offer prasada options that are naturally Whole30 compliant, such as almonds, coconut, or fruit. These can also be given as Diwali gifts to hosts or family members–instead of bringing a box of mithai, bring an assortment of nuts (check your labels to ensure any roasted nuts are cooked in compliant oil, or get raw nuts instead). Cashews, almonds, and pistachios are widely eaten in Indian households.
Think about how you will handle situations where you are offered mithai before you go to any Diwali celebration. This is when it is really helpful to create some IF/THEN statements (see page 27 of The Whole30 for more information).
For example:
IF someone offers me mithai, THEN I will decline or ask for some nuts instead.
IF there is a special mithai I really want/like, THEN I will ask to take a piece home and freeze it for after my Whole30 and reintroduction is complete.
IF they are bringing dessert out, THEN I will go outside to light diyas or watch fireworks and instead focus on the festivities.
Whole30 Diwali Main Dish: Aloo Gobi by Vickie Bhatia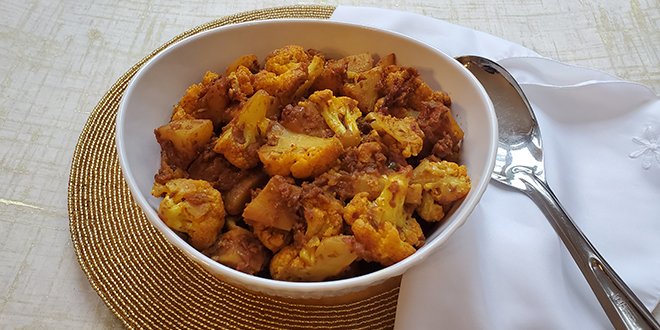 This spiced potato and cauliflower dish can either be a vegetarian main dish or a hearty veggie side dish. Serves 4-6.
INGREDIENTS
1 medium head cauliflower, cut into florets (approx. 6 cups of florets)
4 small russet potatoes, peeled and cubed (approx. 3 cups)
3 small yellow onions, finely diced (approx. 1.5 cups)
2 plum tomatoes, diced
1 jalapeno, seeds removed, finely diced
1 tsp minced ginger
4 Tbsp avocado or olive oil (do not use coconut oil)
2 Tbsp ghee
FOR THE SPICE MIXTURE
1 Tbsp paprika
1 Tbsp cumin seeds (or 2 tsp cumin powder)
2 tsp turmeric
2 tsp coriander powder
1 tsp chili powder
1 tsp garam masala
1 ½ tsp salt
INSTRUCTIONS
HEAT oil and ghee on medium heat. Add the diced onion and cook until the onions are translucent, about 4 minutes. Add the minced ginger, stir, and cook until fragrant, about 30-60 seconds.
ADD tomatoes and jalapeno and sauté 2 minutes, stirring occasionally.
ADD all spices, reduce the heat, and combine until the oil is absorbed. It will resemble a thick paste.
ADD potatoes, stir to combine with the spices, cover and cook on low heat for 4-5 minutes
ADD cauliflower florets, stir to combine and make sure spices fully coat the cauliflower. Add 2 tsp water and cover. Cook on low heat for 25 minutes, stirring occasionally, until cauliflower and potatoes are tender, but not soggy. Uncover and cook for 1-2 minutes if there is any remaining liquid at the bottom of the pan. Cook on low heat until all liquid is evaporated.
Whole30 Diwali Main Dish: Butter Chicken by Marissa Allen of First And Full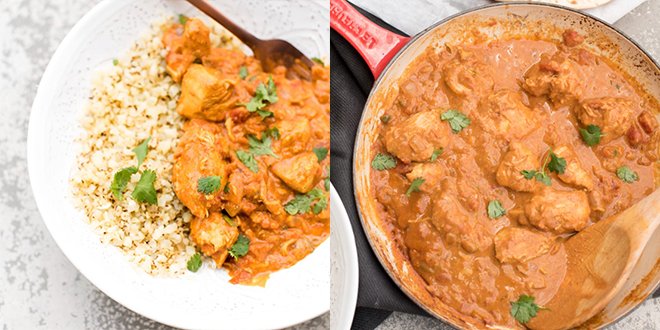 Looking for another main dish option? This Butter Chicken recipe by Marissa Allen of First and Full is a great addition to your menu.
Whole30 Diwali Side Dish: Bhindi (Okra) by Vickie Bhatia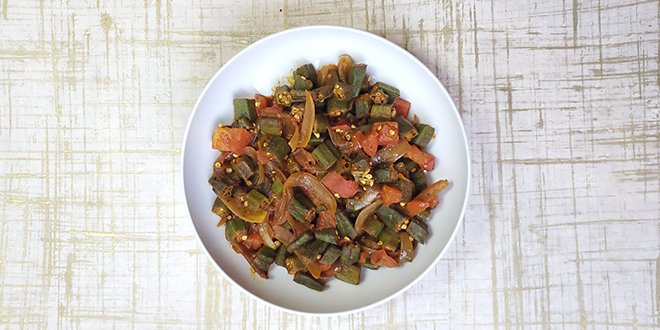 This popular Indian dish is made with okra, onions, tomatoes, and spices and is an easy and delicious side dish. Serves 3-4.
INGREDIENTS
12 ounces okra
1 medium red onion, thickly sliced
1 plum tomato, large chopped
2 Tbsp avocado or olive oil (do not use coconut oil)
1 Tbsp ghee
FOR THE SPICE MIXTURE
1 tsp paprika
1 tsp cumin seeds (or 1 ¼ tsp cumin powder)
¾ tsp turmeric
1 tsp coriander powder
¾ tsp salt
INSTRUCTIONS
WASH and pat dry the okra. If the okra is not fully dry when you cut it, it can be very slimy. Trim and discard the edges of the okra. Cut the remaining okra into half-inch rounds.
HEAT the oil and ghee in a pan on low/medium heat. Do not have the heat too high or this will brown the okra. Add okra, stir to coat in oil, and cook for 2-3 minutes until the okra is no longer slimy.
ADD the red onion and spices, stir to combine. Reduce heat to low, cover, and cook for 7 minutes, stirring occasionally to prevent anything from sticking to the bottom of the pan.
ADD tomatoes, cover and cook another 3-4 minutes until tomatoes soften. Uncover and cook additional 1-2 minutes for any remaining liquid to evaporate.
Source link