This vegan cream of mushroom soup is made with a secret ingredient that makes it unbelievably rich and creamy – but still totally vegan!
This is an advertisement and this post contains affiliate links. Find out more here.
That's right, you heard (read?) correctly. This is a cream of mushroom soup – but there's actually no cream involved, so it's totally vegan. I'm not vegan myself (as you may have guessed from the copious amounts of cheese in my cooking), but it's always fun to challenge myself to cook something vegan every now and then – and when the end result is this good, there's no reason not to!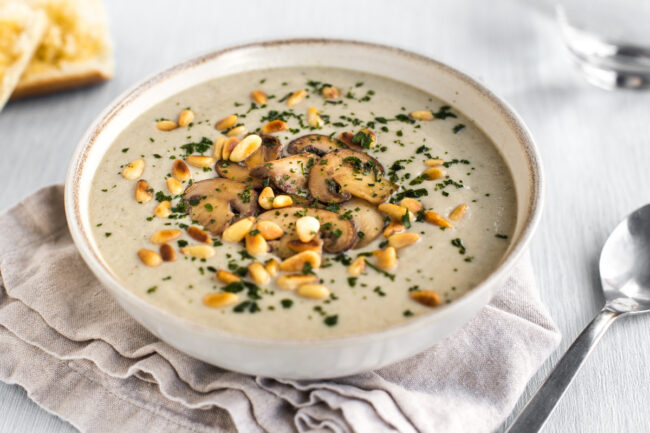 Vegan cream of mushroom soup
This creamy mushroom soup starts much like any other – with mushrooms, of course! They're obviously the most important part of the soup, and they give that amazing rich, earthy flavour. I used chestnut mushrooms – nothing fancy.
I just cooked heaps and heaps of the lovely little things with plenty of garlic and leek. You can use onion instead of leek if you prefer, but I find leek tastes a little more mellow, plus it's less of a faff to cut (does anyone else really, really hate chopping onions?).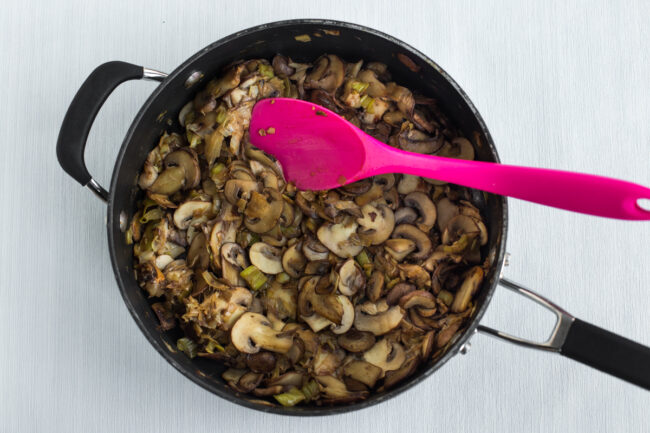 The Froothie Evolve blender
When your veggies are cooked, just pop them in a blender with a few other simple ingredients, and you're pretty much done! It's super (souper?) simple to make, and the end result is thick, creamy, and beautifully smooth.
I whizzed up all my ingredients for this vegan cream of mushroom soup in the Froothie Evolve blender*, which I was recently gifted from the brand. You can immediately tell that it's a better quality product than my previous blender – the two jugs feel sturdy and hardwearing, reassuringly heavy with their tempered glass pitchers.
Two jugs, I hear you ask?
The Froothie Evolve comes with:
a blender jug, which is seriously powerful, with 6 blades to give a really smooth soup
a cooking jug, which contains a heating element so you can cook your veggies and blend them up in one fell swoop (also good for making baby food, etc!)
This time I just used the regular blender jug, since I wanted to cook the mushrooms and garlic in a frying pan first, but I will definitely be using the cooking jug for making other kinds of soup, with no prep required!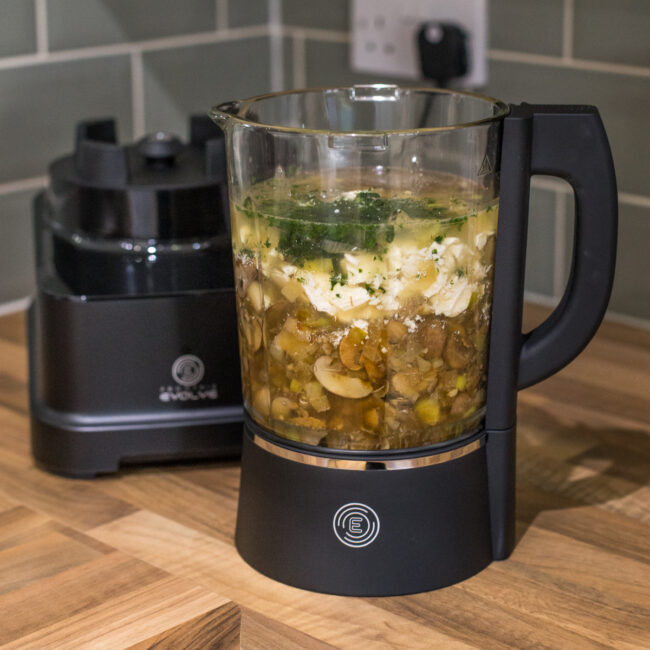 Voice-activated blender
Another cool feature of the Froothie Evolve* is its voice activation and Bluetooth compatibility.
You can have the ingredients for your morning smoothie ready in the blender, then whizz them up from the app on your phone before you've even climbed out of bed.
Or, you can tell your soup to get going while you're still faffing around the kitchen with mucky hands.
Smartest blender ever?!
If you'd like to receive a £100 discount off your Froothie Evolve, plus an extra 2 years' warranty (7 years total!), just add the following text to the comment box when you order from the Froothie website: "Ambassador (5932) special 2 extra warranty years  + Google100"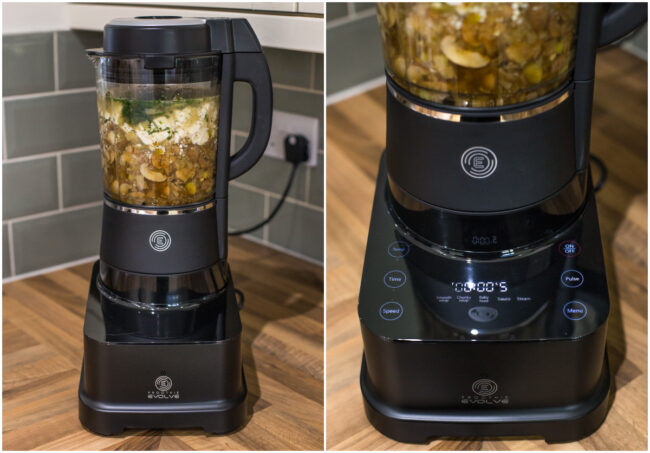 Smooth and creamy mushroom soup
Just pop everything into the blender, and you're ready to get blitzing.
In goes:
the cooked garlic mushrooms
fresh or dried parsley (mushrooms' best friend)
your favourite vegetable stock
and, the secret (vegan!) ingredient that makes this mushroom soup ultra creamy…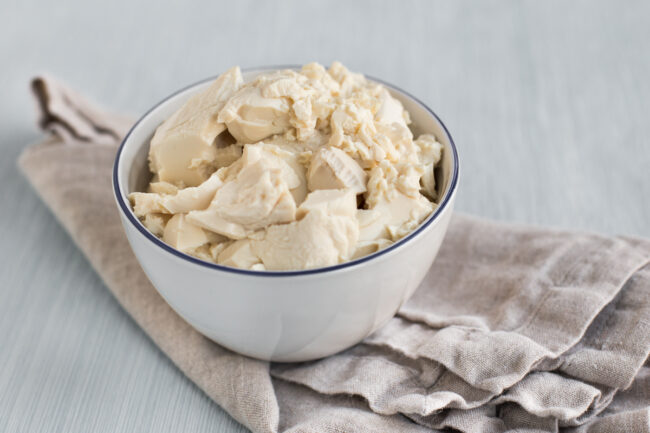 Why use silken tofu in soup?
If you're not overly familiar with vegan cooking, silken tofu might not be an ingredient you'd ever think to put in your mushroom soup – but it works absolutely brilliantly! The soup ends up rich and creamy, with no dairy in sight.
And just in case a bowl of smooth and creamy mushroom soup wasn't enough to convince you that silken tofu is a great ingredient to use, it also adds 25 grams of protein to this recipe – that's more than 6 grams of additional protein per bowl, and only around 50 extra calories each!
If you were to use a small tub of double cream to make your soup creamy instead, you'd be looking at more like 1 gram of protein per bowl, and 350 calories. Such a huge difference.
I'm totally willing to indulge in a few extra calories when it's really worth it (here's looking at you, enormous bar of milk chocolate), but when the tofu version still gives a beautifully delicious, creamy soup, it's a no-brainer.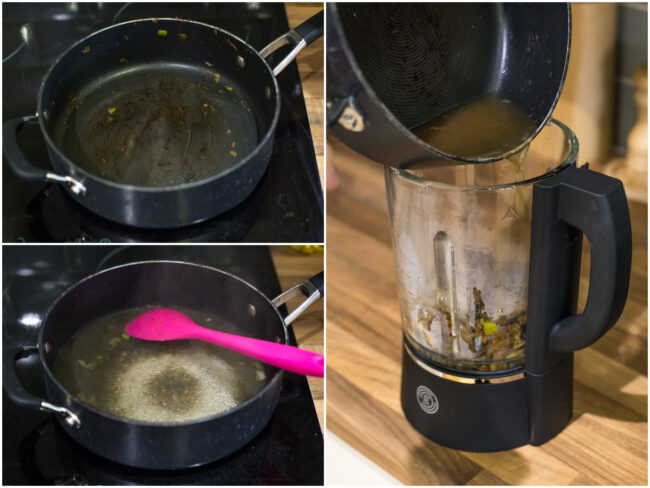 How to deglaze a pan
One other thing that you mustn't forget to do – deglaze your pan!
After cooking all those mushrooms, leek and garlic in the pan, you'll probably end up with loads of tasty bits stuck to the bottom. It would be criminal to leave all that flavour behind.
Instead, you can add a dash of water or stock to the pan, and let it bubble away for a minute or two. This will loosen all those tasty sticky bits (have a good scrape with your spatula!), and means you can pour them right into your blender along with your other ingredients.
This way none of that lovely flavour goes to waste!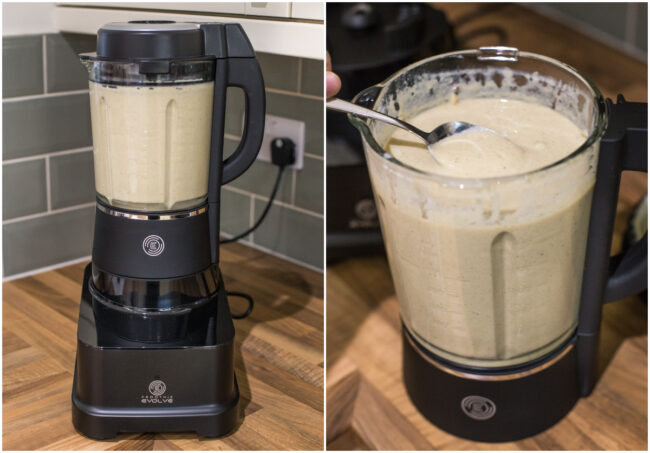 How else can I make a creamy vegan soup?
Adding silken tofu is definitely one of my favourite methods for making a creamy vegan soup, but there are other ingredients you can add instead, if you can't or don't want to use tofu:
vegan dairy-style products e.g. soy cream or oat cream
soaked cashew nuts (though you'll need a powerful blender to make sure they don't make your soup grainy or lumpy!)
potatoes – they always help to thicken up a soup and make it a bit more creamy
coconut milk (which will obviously add a slightly coconutty flavour to your soup, so it's great with Asian-style flavours)
blended beans, which also add plenty of protein!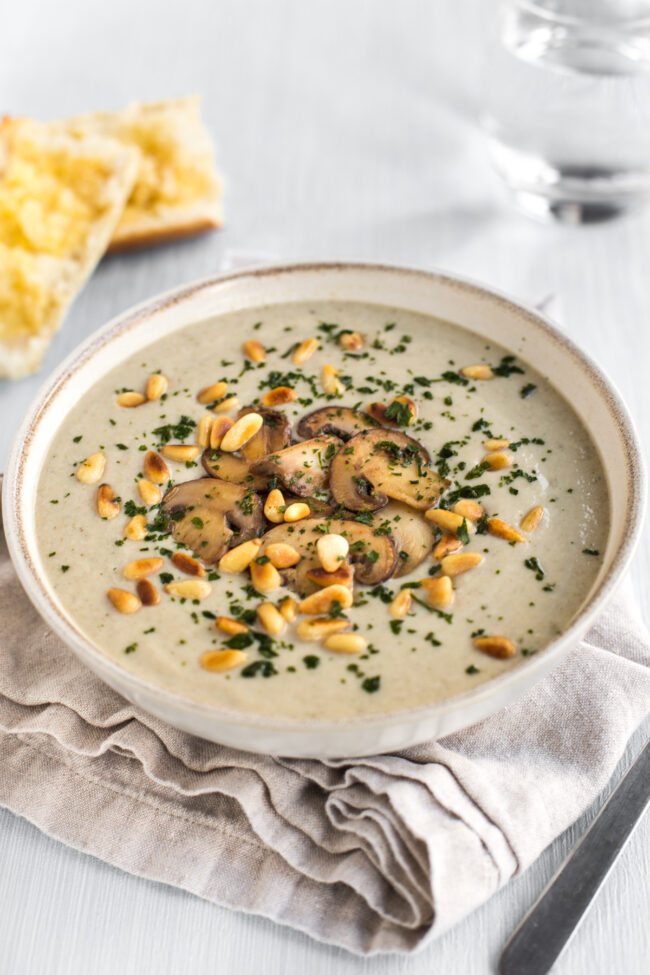 Creamy vegan mushroom soup
Once you've added everything to the blender and given it a good blitz, you'll end up with a thick and creamy mushroom soup. It's so rich and luxurious, you'll be amazed that there's no dairy in sight.
At this point, it's always a good idea to give your soup a little taste, and check the seasonings – add an extra pinch of salt and pepper, maybe some extra dried parsley. Then you can just blitz for a few more seconds to mix it in.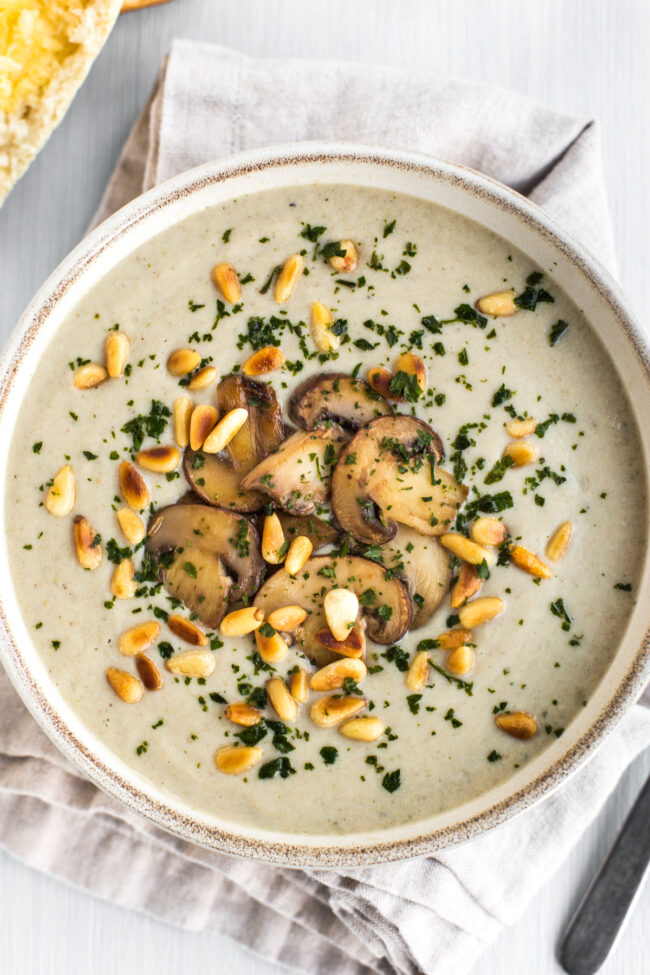 Don't forget the soup toppings!
I'm always big on toppings – they can lift a meal from something simple to something a bit special. Soup is perfect for topping with all sorts of tasty extras, to give little pops of different flavours and textures to an otherwise smooth and uniform soup. They also look really beautiful, so perfect if you've got guests you want to impress!
This time I held back a few of my garlicky sautéed mushrooms to serve on top of my vegan cream of mushroom soup, and I also added some toasted pine nuts. It's really worth spending 2 minutes toasting the nuts, rather than serving them raw – they take on an amazing, dare I say it, nutty flavour, and they get nice and crispy.
Have you ever tried making a creamy vegan soup? If not, this vegan cream of mushroom soup is a great place to start!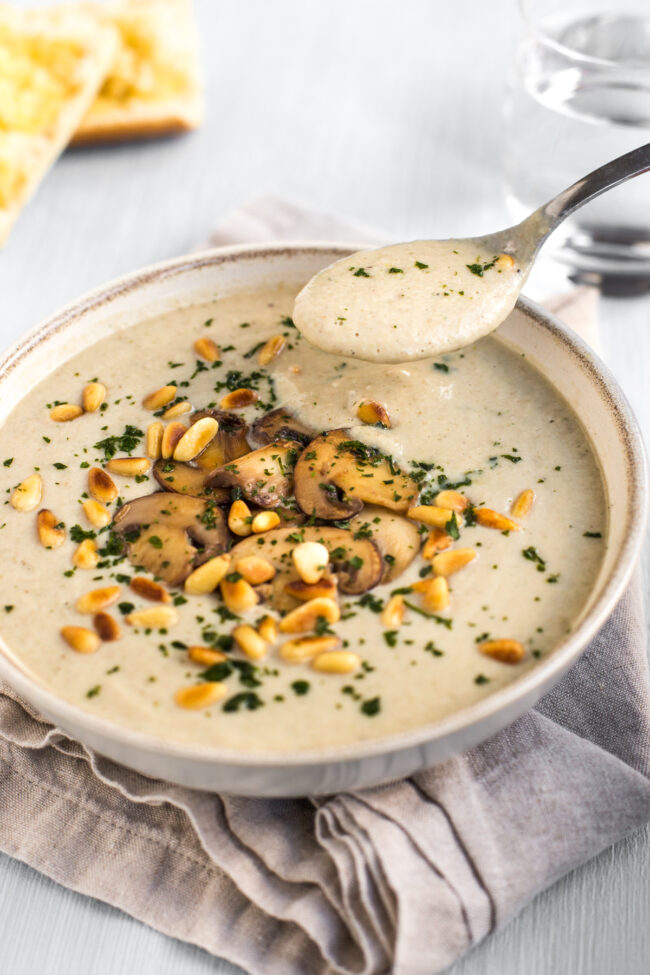 Vegan cream of mushroom soup
This vegan cream of mushroom soup is made with a secret ingredient that makes it unbelievably rich and creamy – but still totally vegan!
Prep Time: 10 mins
Cook Time: 5 mins
Total Time: 15 mins
Servings: 4 bowls
1

tbsp

oil

1

medium leek,

halved lengthwise then sliced

750

g

(~ 1 2/3 lb) mushrooms, sliced

4

cloves

garlic,

minced

Black pepper

1

litre

(~ 4 cups) hot vegetable stock

350

g

(~ 12 oz / ~ 1 1/4 cups) silken tofu

2

tsp

dried parsley

(or a few sprigs fresh parsley, roughly chopped)

3

tbsp

pine nuts
Heat a dash of oil in a large frying pan, and add the sliced leek. Cook for a few minutes over a medium heat, until just soft, then add the sliced mushrooms. If you can't fit them all in the pan in one go, add them a handful at a time (they'll reduce in volume as they cook), or split them into two separate pans. Add the garlic and a generous pinch of black pepper, and cook for a few more minutes until the leek and mushrooms are all cooked thoroughly and just beginning to brown.

Transfer the cooked vegetables to a blender (you can hold back a few mushrooms to use for garnish if desired).

To deglaze the pan, add a little of the vegetable stock to the empty frying pan, and bring to a boil. Scrape any cooked-on bits of mushroom and leek from the bottom of the pan (make sure you don't use a metal spatula if your pan is non-stick), into the liquid.

Add the liquid from the pan to the blender, along with the remaining veggie stock, silken tofu, and parsley (I actually used semi-dried parsley). Seal the blender with the lid, and blitz thoroughly until the soup is smooth.

Check the soup's seasoning, adding more salt, pepper or parsley if desired, and blitzing again to combine.

To make the toasted pine nuts, add the nuts to a dry frying pan, and cook over a medium heat for a couple of minutes. Once the pan is hot, the nuts will brown very quickly, so keep stirring them, and remove them from the pan as soon as they're browned to your liking.

Serve the vegan cream of mushroom soup topped with any remaining garlic mushrooms, the toasted pine nuts, and some extra parsley.
For a slightly richer soup, just use a little less silken tofu.
Nutrition Facts
Vegan cream of mushroom soup
Amount Per Serving (1 bowl)
Calories 191
Calories from Fat 97
% Daily Value*
Fat 10.8g17%
Saturated Fat 1.1g6%
Sodium 48mg2%
Potassium 860mg25%
Carbohydrates 14.2g5%
Fiber 2.7g11%
Sugar 5.5g6%
Protein 13.5g27%
Calcium 49mg5%
Iron 7mg39%
* Percent Daily Values are based on a 2000 calorie diet.
Note: Nutritional information is approximate, and will depend on exactly what ingredients you choose. Information above is for 1 bowlful, including toppings.
Got any mushrooms left over? Pop them in this chip shop-style Chinese curry – it's vegan too!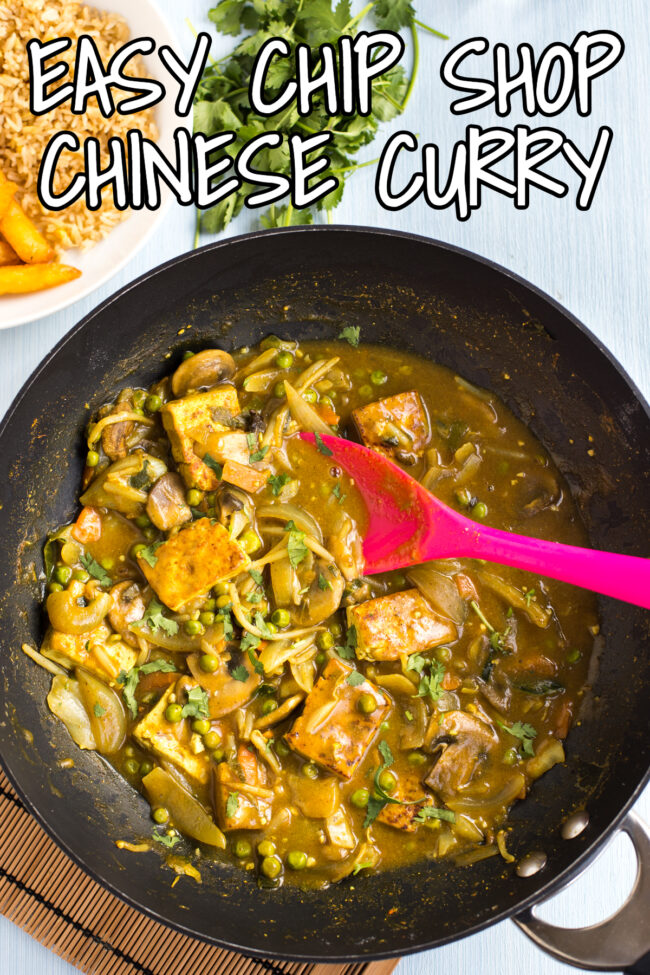 *Note: This post contains affiliate links. If you make a purchase using one of these links, I will receive a tiny (tiny!) payment, at no extra cost to you. Thanks for the support!
Source link