"You need to remove that from the house!" That is what my wife told me a day after I made this 7-Layer Whipped Goat Cheese Dip. We were both grabbing a pita chip and sneaking a little dip out of the fridge every time we walked through the kitchen. It was just that good!
This dip is the perfect addition to any holiday party table. It has a nice mix of savory and sweet flavors, and crunchy and creamy textures. It also transports and stores really well. All told, it might just be my new favorite dip!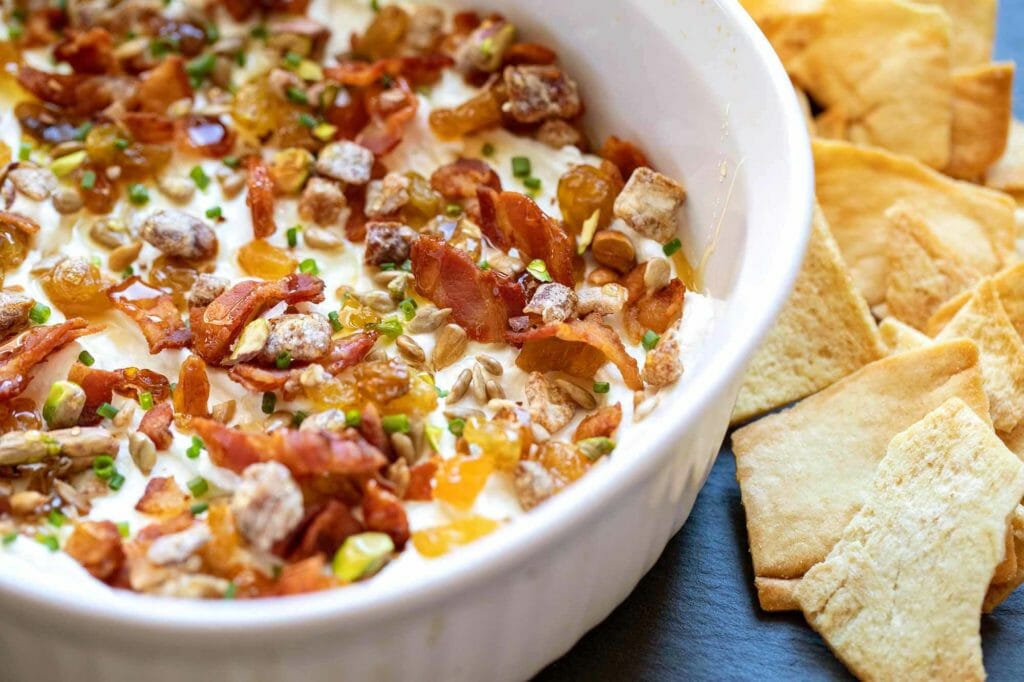 HOW IS THIS DIFFERENT THAN TRADITIONAL 7-LAYER DIP?
I love a good layer dip as much as the next food dude. The classic Tex-Mex version is typically made with refried beans, sour cream, tomatoes, cheese, olives, and maybe some chiles.
This layer dip is quite different. Instead of refried beans or cream cheese, the base of this dip is a reasonably thin layer of whipped goat cheese, which is then piled with seven complementary ingredients, including honey, golden raisins, pistachios, and chopped dates.
It's a bit more elegant, which makes it great for the holidays when a special appetizer can be worth the extra expense!
WHY DO YOU I NEED TO WHIP THE GOAT CHEESE?
You need to whip the goat cheese to lighten it up and make it easy to spread. It's quite easy to do: Just add a bit of whole milk yogurt, whole milk, and lemon juice to a bowl with the goat cheese and whip together with a hand mixer until the cheese is light and fluffy.
You can also use a fork and mix by hand. Either way works fine!
If the goat cheese is still too dry after mixing, add milk by the tablespoon to thin it out. Keep in mind that you want a consistency that's easy to dip a chip in!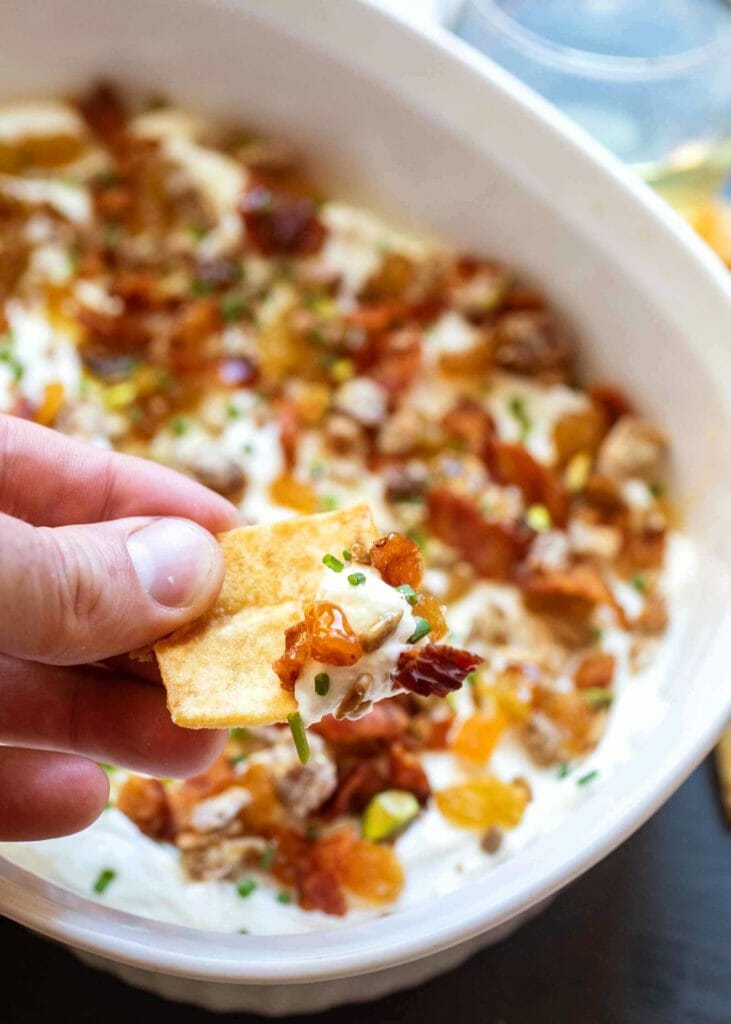 SUGGESTIONS AND SUBSTITUTIONS FOR THIS DIP
This is where the fun starts!
Once you spread the whipped goat cheese into your serving dish, you get to add all the toppings. I recommended seven, but there are so many that could work depending on if you're going for more of a sweet or savory dip.
For a sweeter dip, like I've done here, I opted for golden raisins and chopped dates, but you could also try chopped dried figs or dried cherries. (Almost any dried fruit would do just fine!) I used pistachios, but walnuts or pecans would also work. You could also use agave syrup in place of the honey.
If you'd like a more savory dip, consider some savory ingredients that go well with goat cheese, like sun-dried tomatoes, chopped olives, minced red onions, or capers.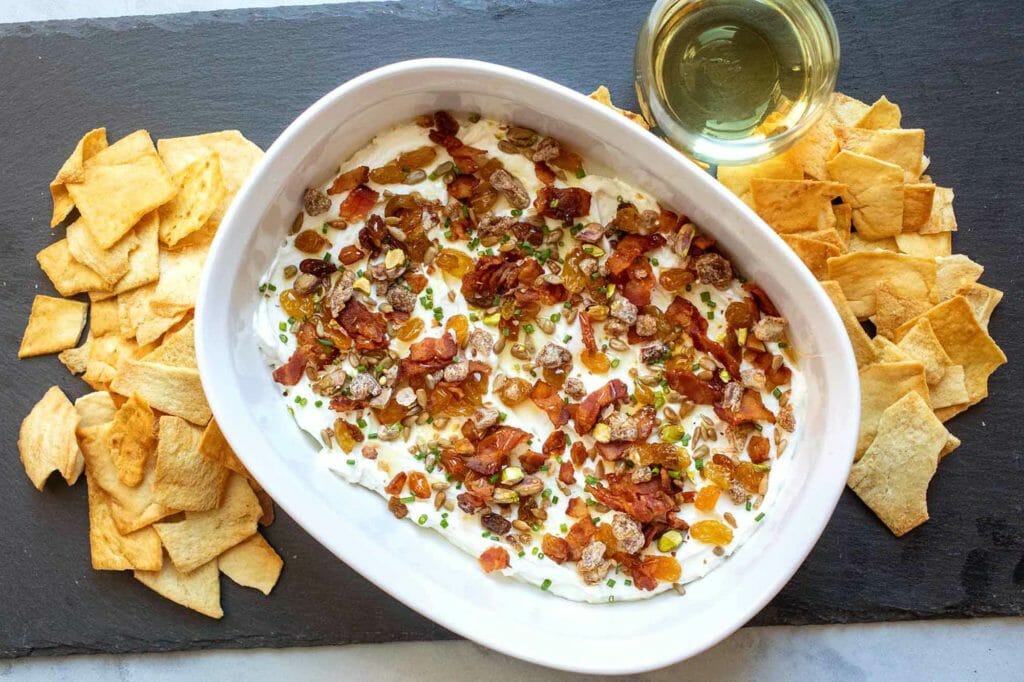 WHAT TO SERVE WITH THIS DIP
There is a lot going on with this dip, so I recommend using a pretty bland serving vehicle, like pita chips. They are sturdy enough to dig into the dip under all the toppings, but don't have much of a flavor on their own.
You could also use crunchy vegetables like strips of carrots or celery.
MAKE-AHEAD TIPS FOR THIS DIP
This dip was just as good on day three as on day one, so feel free to make it a few days in advance of any parties—that is, if you have enough self-control not to eat it.
If you plan to add herbs to the dip, hold off adding them until right before serving. Herbs like chives will brown slightly in the fridge if the dip is made too far in advance.
MORE PARTY APPETIZER RECIPES
Source link